Brand
The story of a family company
MAXXelle means: pursuit of perfection in beauty through nature and pure expression of Italianness.
There was once a small family business, which in the 60s started to deal with hair products in Italy.
Thanks to years of experience, tenacity and winning collaborations, this young company has become a benchmark in the said sector of hairstyling and training of professional hairdressers.
This is the story of MAXXelle, this is the story of a passion.
Fifty years of experience and professionalism have turned a small business into a strong company, capable to launch on the market, in 2010, its own line of high quality products for the wellness and care of the hair.
Today, as then, we at MAXXelle aspire to the best results.
We constantly test and refine every aspect of the products we offer. Because what matters to us is the beauty of your hair.
"Wisdom is the abstract of the past, but beauty is the promise of the future."
Oliver Wendell Holmes
The founder
Massimo Feliziani
Massimo Feliziani, Founder & CEO President MAXXelle, joins the family company as second business generation, after an ambitious path of studies conducted in Italy and abroad.
Immediately he matures his project to develop his own brand in the field of Trichology, moving towards a production with strong natural connotations.
The passion for beauty inherited from his family and the knowledge gained from years of experience, lead him to establish close working relationships with University Research Institutes, focusing on quality 100% Made in Italy, as element of differentiation of his brand.
Quality that translates into research of ingredients and actives of organic origin, as basis of high-performing professional products, but nonetheless respectful of the health and wellness of the hair and the person.
This is the philosophy from which MAXXelle has arisen. Over the years, the attention to the quality of raw materials has always remained a constant, to which has been added a growing consideration for the environmental impact.
The research has in fact focused on a project of "sustainable beauty" with the progressive introduction of compostable packaging, which has allowed MAXXelle to have an additional plus over its competitors.
The story of MAXXelle is therefore the story of a passion, that evolved over time by adapting to the "greener and greener" needs, of both professional hairstylists and consumers, with the constant aim of providing a highly performing product and the most natural as possible.
An international and modern project, rooted on the bases of Italian tradition and culture.
Quality, style, knowledge, beauty
Focusing on the future means investing in new technologies, researching new production techniques and continuously working to develop professional products with respect for the environment.
MAXXelle does this every day, by exporting all over the world products that are true expression of the Italian tradition linked to quality, style, knowledge and, above all, beauty.
Feeling good about yourself.
Our mission
This is what our customers must feel and this is our mission. We work every day with the aim of making your hair perfect, through attention to detail, research and professionalism.
We think we do not have to leave anything to chance.
We continuously update and we never stop to seek the best solution. We believe that true beauty is not just an aesthetic issue, but also and above all, it is a matter of well being.
Our products are created on the belief they have to respect the hair with natural and non-aggressive elements and are, first of all, aimed at the health and wellness of the hair. Every step forward in our laboratories is a touch of health for our customers.
Discover product lines
"A thing of beauty is a joy forever. Its loveliness increases, it will never pass into nothingness."
Oliver Wendell Holmes
Behind every great product there are always great dreamers.
Our team
We started with a passion and now we have a highly professional team, composed by experienced, qualified experts and notable stylists who work every day to improve themselves and their products.
The enthusiasm and the desire to experiment of the beginning have joined to the experience and professionalism gained over the years, to get to the one result that we care about: the quality.
At the center of it all, as always, the people because MAXXelle is a large company built around people. People full of enthusiasm,with a real passion for excellence, and always determined to improve.
Do you want to work with us?
Become a MAXXelle distributor / importer.
Request more information now.
Request Information
biORGANIC
Styling & finishing
All you need to define, texturize and volumize.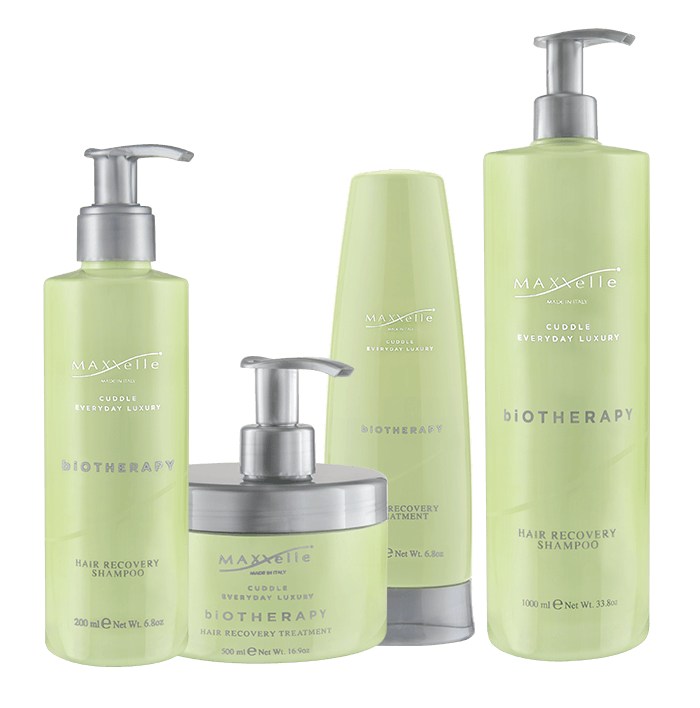 biOTHERAPY
Nourishment and reconstruction
Shampoos, serums, scrub and masks based on organic ingredients.
Cura Riattiva
Prevent hair loss
Products based on essential oils to counteract hair loss.
MIRACLE
Wellness for body and hair
Products to nourish and repair from the aggressions of sun, salt and chlorine.